Anyvid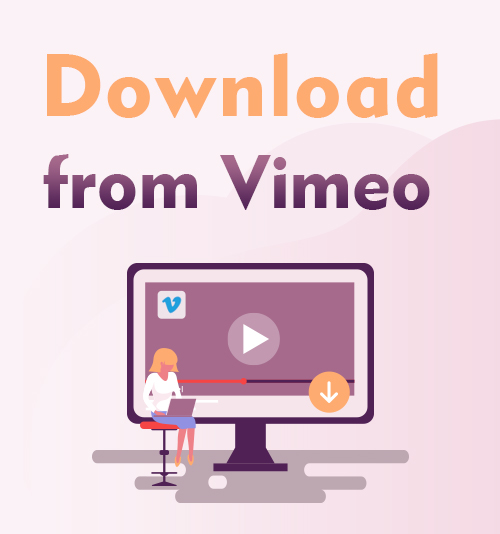 Vimeo provides numerous high-quality videos for its viewers. You may encounter some amazing videos you really want to save to your devices so you can watch them offline.
However, some videos do not offer a download button. Hence, you cannot download these videos directly within Vimeo.
Wie können wir dieses Problem lösen?
Don't worry, I have figured out three ways to download videos from Vimeo.
Read on, and you can learn how to download videos within Vimeo, or how to download Vimeo videos if the download option is unavailable.
Lassen Sie uns ohne weiteres loslegen!
Download Video Within Vimeo
Some of the videos on Vimeo can be downloaded to a computer directly if the download option for a video is available. If you are lucky, the video you want to save offers a download button, then you can download the Vimeo video directly with the button.
How to download within Vimeo? It is easy, let me show you.
Find the desired video on Vimeo, click the download button located underneath the video player, as shown in the picture below.
After clicking the Download button, a list of available resolutions will be displayed. Wählen Sie die Auflösung you want and save the video instantly.
However, what if there has no download button below the video you want to save?
It is a pity that you cannot download these amazing videos! At this moment, you may urgently need a tool to save video from Vimeo to your devices, right? Take it easy! Maybe you can search third-party Vimeo video downloader um Hilfe.
Third-Party tools Help You Download from Vimeo
If there is no download option available right below the video you want to save on Vimeo, don't worry! Vimeo video downloaders will lend you a hand.
How to Download from Vimeo by Online Tool
If you are tired of installing any video downloading application to your PC, online tools are quite suitable for you. There are plenty of online tools to download Vimeo videos. However, most of them have unpleasant ads placement. Even worse, if you accidentally click on the ads, some harmful software may be automatically downloaded to your PC. So, how to download video from Vimeo without the threat of downloading harmful software? After testing so many Vimeo video downloaders, I find that AmoyShare Vimeo Video Downloader ist der beste.
This Vimeo video downloader is safe and free, and it can help you get rid of the bother of advertisements and viruses. You can download Vimeo videos safely and quickly by using it.
How to download videos from Vimeo online?
Offenheit the browser and Typ amoyshare.com/vimeo-video-downloader/.
Kopieren Sie die URL of the Vimeo video that you want to download and füge es ein in die Suchleiste.
Klicken Sie auf die Download-Schaltfläche . selectthe format you like to download the video.
Then you can get the job done!
AnyVid
Laden Sie ein Video von über 1,000 Websites herunter
How to Download from Vimeo by Software
In addition to downloading videos from Vimeo, you can enjoy more comprehensive services like HD video downloads, batch downloading with a powerful video downloader called AnyVid.
AnyVid Video-Downloader is an ad-free and virus-free Vimeo video downloader with comprehensive functions. It supports video downloads from Vimeo, YouTube, Facebook, Instagram, and so on. Moreover, it can help you download high-quality video to MP3 and MP4 format. You can easily download the video by using this software on PC, Mac and Android phones at an extremely fast speed.
Now let's learn to download Vimeo videos mit den folgenden Schritten.
Before we start, please install AnyVid Video Downloader on your PC, Mac or Android phone.
AnyVid
Laden Sie ein Video von über 1,000 Websites herunter
Markteinführung AnyVid, und dann paste your Vimeo video URL into the search bar.
Press the download icon . Wählen Sie das Format displayed to download the video.
Now you can find the downloaded video on Downloaded module!
By the way, AnyVid also supports keywords search in case that you do not have the exact URL.
Moreover, you can use the Browse module of AnyVid to download videos while viewing.
Let me show you how to use this function to download a video from Vimeo.
Launch AnyVid Video Downloader, Klicken Sie auf the "Browse" module and then click on Vimeo.
Klicke auf the video you want to save and then hit the download icon.
Wählen Sie die Auflösung Sie wollen.
Then you get the job done! It is quite convenient, right?
Fazit
I have introduced three different means to save video from Vimeo above. After reading this post, I guess you now have some ideas of how to download a Vimeo video.
If you are a Vimeo video fancier like me, trust me, AnyVid Video-Downloader is worthy of trying. It is a safe and easy-to-use Vimeo video downloader. No matter what kind of device you are using, Windows, Mac, or Android, you can use AnyVid to download your favorite Vimeo videos with just 2 steps.
Now, install AnyVid Video Downloader und starten Sie Ihre Prüfung!
AnyVid
Laden Sie ein Video von über 1,000 Websites herunter
Möglicherweise interessieren Sie sich auch für diese Themen