Anyvid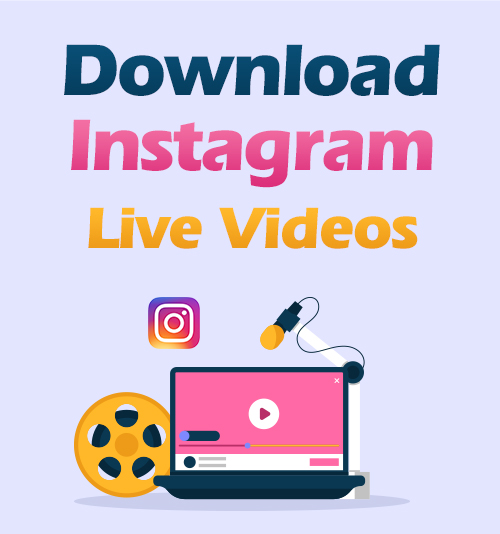 Have you ever received a notification from your friend to start a live on Instagram?
Besides videos and stories, Instagram also allows users to create live shows. Many celebrities use Instagram Live a lot. They chat with fans, share works, and sell products.
Live audiences can interact in real time, such as sending comments, clicking the "Like" button, or reporting to Instagram when they feel the live video content is inappropriate.
But Instagram only keeps live videos for 24 hours after they originally aired. If you've found an Instagram Live video pretty impressive, you may want to download it before Instagram automatically deletes it so that you can replay it anytime.
Instagram does have the download option for the live host after it is posted, but not for the audience. So, you may wonder how to download Instagram Live videos.
Go through this article, and you will find satisfactory solutions like the screen recorder and AnyVid Instagram Downloader.
Part 1. How to Download Instagram Live Videos to your Phone?
iPhone, Android, and most laptops have built-in screen recorders. Using these tools is the most general way to save Instagram Live videos. Here's the guide to screen recording on your smartphone.
Für iOS 11 oder höhere Benutzer
How to download Instagram live videos on iPhone?
The most straightforward way is using the built-in screen recorder. After the recording, the video will be saved to your Photos directly. You can watch and edit it easily on your iPhone.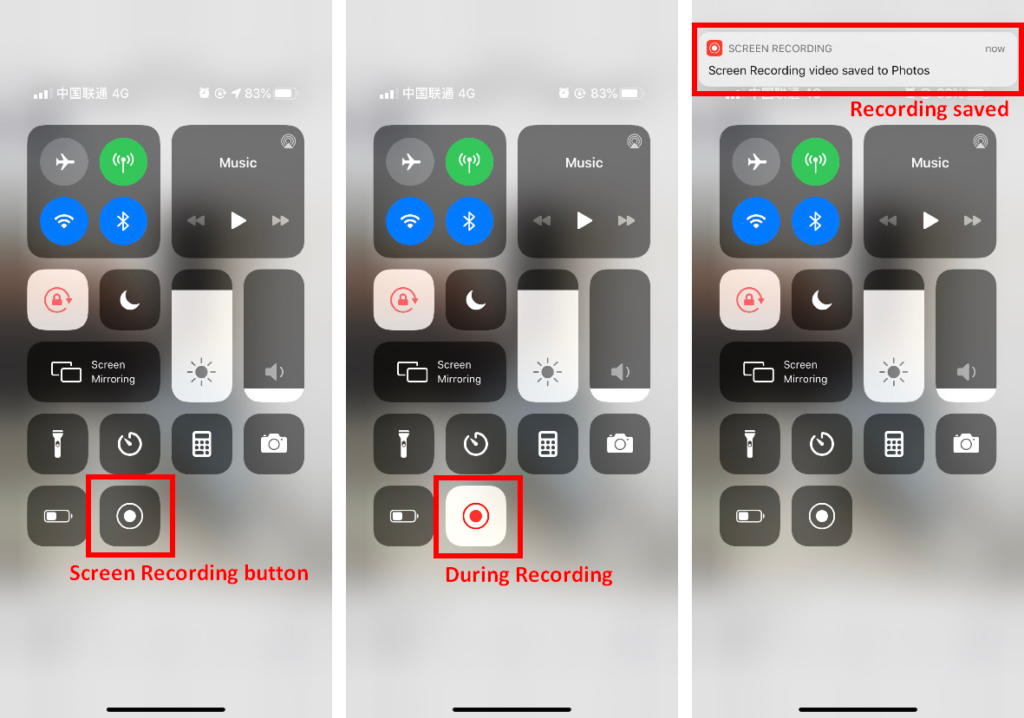 Gehen Sie zum Control Center und finden Sie die Screen Recording button (a concentric circle).
Go back to Instagram. Open the Control Center and starten Sie die Aufnahme Ihr Bildschirm.
Hit the live video that you wish to record. Wait till the live video ends, stop the screen recording. The video will be automatically saved to your Fotos.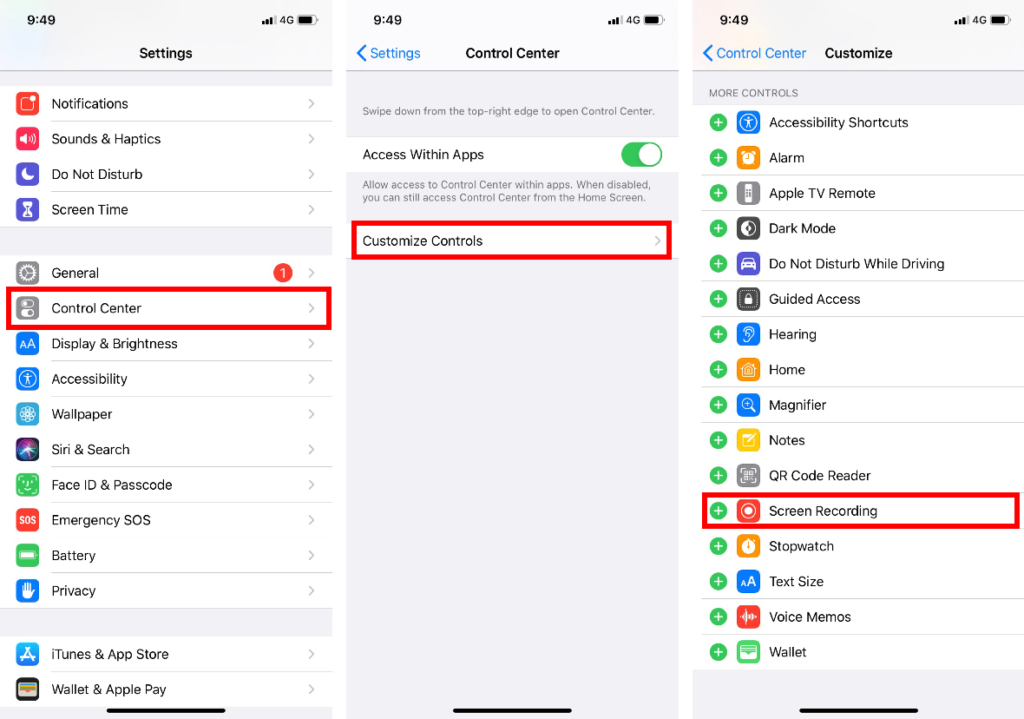 If you don't have it in Control Center, you can go to Einstellungen> Control Center> Steuerelemente anpassen. After you enable the Screen Recording, you will see it appears in Control Center.
Für Android 10 oder höhere Benutzer
To download Instagram live videos on your Android, you can also use the screen recorder on your phone.
However, because of the various models of Android cellphone, the way to record the phone's screen may not be the same for all Android devices.
Therefore, the following steps are just for reference.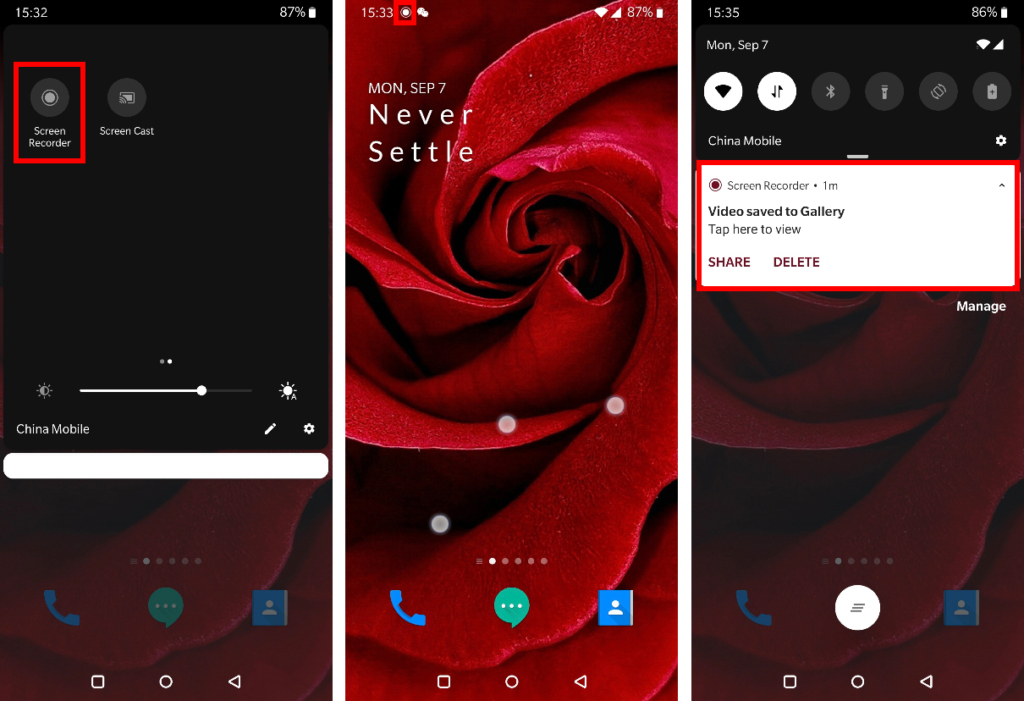 Swipe down, and you can find the built-in screen recorder in the Quick Settings Speisekarte. Wählen "Record System Sounds" to reduce outside noise.
Enable the screen recorder, then go back to Instagram to play the live video that you want to download.
Wait till the video ends, then stop recording. The video will be automatically saved to your Photos.
Trotzdem können wir sehen, dass es offensichtliche Mängel bei der Bildschirmaufnahme gibt. Zum Beispiel:
● Sie müssen warten, bis das vollständige Video fertig ist (Live-Videos sind normalerweise lang).
● Benachrichtigungen anderer Apps können die Aufzeichnung stören
● If the live video has already started, we could not record it completely.
● When you try to download someone else's Instagram Live video, whether the live host will choose the Replays option is uncontrollable.
Part 2. How to Save Instagram Live on Computer?
If you are used to watching Instagram Live on a PC browser, the browser extension could help you out. Use Google Chrome as an example, you can get multiple results by searching for practical Instagram assistant extensions.
Gehen Sie zu den Chrome-Einstellungen. (Das "..." am rechten Ende der Adressleiste). Klicken Sie in der linken Seitenleiste auf "Erweiterungen".
Klicken Sie auf der neuen Seite oben links auf "Erweiterungen", um die Navigationsleiste zu öffnen. Klicken Sie dann unten auf "Chrome Web Store öffnen".
Geben Sie "Save IG Live Story" in die Suchleiste ein. Suchen Sie die Erweiterung und klicken Sie auf "Zu Chrome hinzufügen".
Kehren Sie zur Instagram-Startseite zurück, und die Live-Videos werden oben in Ihrem Feed angezeigt. Sie sehen das Erweiterungssymbol neben der Adressleiste. Klicken Sie auf das Erweiterungssymbol. Alle Live-Videos und Geschichten werden in dem neuen kleinen Fenster angezeigt.
Klicken Sie auf die Download-Schaltfläche neben dem gewünschten Video. Dann lädt Chrome das Video auf Ihren PC herunter.
Tip. Mit dieser Erweiterung können Sie kein bestimmtes Video zum Herunterladen auswählen, wenn der Live-Host mehr als ein Video veröffentlicht. Alle Videos werden auf Ihrem PC in eine Zip-Datei komprimiert.
Part 3. Use an Instagram Live Downloader
Compared with the screen recorder and browser plug-in, an Instagram Live downloader is a great way to solve the problem once and for all. Therefore, we'd like to recommend an easy-used and powerful tool for you, the AnyVid.
AnyVid soll Benutzern das Herunterladen von Videos von verschiedenen Websites erheblich erleichtern. Es unterstützt Video-Downloads von über 1,000 Websites, einschließlich Instagram. Außerdem bietet AnyVid eine dreimal schnellere Download-Geschwindigkeit zum Herunterladen von 3K- und HD-Videos. Wenn Sie eine Reihe von Videos herunterladen müssen, steht Ihnen auch der Batch-Download zur Verfügung.
The download steps are pretty straightforward. See below:
Holen Sie sich den Link zum Instagram Live-Video.
Fügen Sie den Link in das Suchfeld von AnyVid ein.
Klicken Sie auf die Schaltfläche "MP4", um den Download zu starten. AnyVid bietet Ihnen automatisch die beste verfügbare Videoqualität.
Wenn die Prozessleiste voll ist, ist die Download-Aufgabe abgeschlossen. Und dann können Sie das Live-Video offline ansehen.
Tip. AnyVid verfügt über eine Windows / Mac / Android-Version, sodass Sie Instagram Live-Videos sowohl auf dem PC als auch auf Mobilgeräten herunterladen können.
Fazit
Instagram Live videos have immediacy and interactivity. Because of the existing time limit, users are urging to download Instagram Live videos. I hope you will learn the ways to download Instagram Live videos after reading through this article.
AnyVid
Laden Sie ein Video von über 1,000 Websites herunter
für Windows 10
für Mac OS X 14+
für Android
For me, I think using an Instagram Live downloader is the most efficient method. What's more, AnyVid supports to download not only Instagram Live videos, but also videos from other social networking sites, such as Facebook, Twitter, YouTube, etc.
Holen Sie sich einen Downloader, speichern Sie alle Videos.
Probieren Sie es aus!
Can you download Instagram live videos?
Yes. You can download Instagram live videos by recording the screen while the live video is on air. iPhone and Android device normally have a built-in screen recorder. Or, you can choose to use AnyVid to download Instagram live video by simply copying and pasting the video link.
How can I download Instagram videos to my computer?
installieren AnyVid to your PC or Mac, and then copy the Instagram live link from its website. Paste the link into AnyVid's search box and get the result within a few seconds. Click the Download button to start the download.
Möglicherweise interessieren Sie sich auch für diese Themen