Anyvid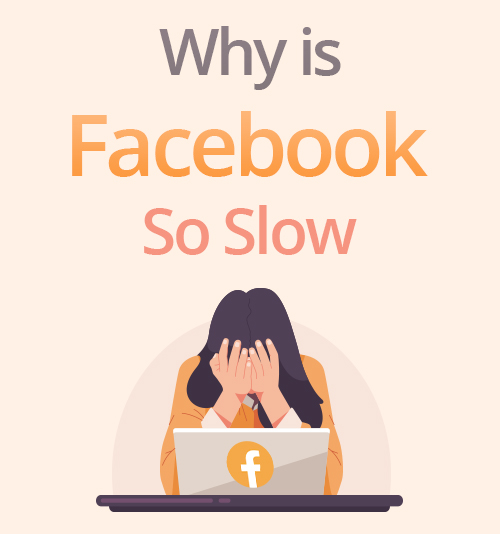 Facebook is a social media website. People used to go to a party or cafe to network and make new social contacts. Nowadays, however, people build social ties mostly on the internet. You may scroll though Facebook content every day and get a lot fun from that.
However, sometimes you may run into the snags such as Facebook keeps stopping, Facebook video not playingund Facebook running slow, Und so weiter.
There is nothing more frustrating than Facebook loading slow. You have to wait long before viewing anything you are interested in. The user experience is so awful.
Why is Facebook so slow?
Today I am going to help you find out the real culprits of Facebook lagging issue and tell you how to speed up Facebook on your computer and mobile phone.
On top of that, I would like to recommend a fast Facebook downloader for you to get your favorite FB videos for offline viewing.
Now let's move on.
Teil 1. Warum ist Facebook so langsam?
Viele Leute beschweren sich über das langsame Laden von Facebook, das sich aus dem Hinzufügen von Funktionen ergibt. Neue Funktionen sind für Benutzer nützlich, belasten aber auch die Anwendung und den Server.
In simple terms, the primary problem has been too many JavaScript files/functions on Facebook. Go on to the next point to see why is Facebook so slow on Chrome.
● Serverprobleme
● Keine Bereinigung von Cache-Cookies
● Internetprobleme
● Kein VPN verwenden
● Symbolleisten von Drittanbietern, die dem Webbrowser hinzugefügt werden
● Unnötige Browsererweiterung installiert
And below could explain why Facebook is so slow on my phone:
● Insufficient storage capacity
● An outdated operating system
● Corrupted files
● Too many apps running in the background
Now that we find out the reason for Facebook sluggish, lets fix it together.
Part 2. Fix Facebook Slow Issue on Mac & PC
Es ist wichtig, sich daran zu erinnern, wie groß Facebook ist. Manchmal kann es nur langsam laufen, weil die schiere Anzahl von Code, von denen einige Jahrzehnte alt sind, Ihnen Updates bringt.
Keep reading, I will talk about different methods you can use to solve the Facebook loading slow issue on Chrome or Microsoft Edge. Most of them are easy, and you'll be able to deal with them with little time and effort.
1. Löschen Sie Cookies:
Cookies sind kleine Datencluster, die in Ihrem Browser gespeichert werden können. Wenn Sie zu viele Cookies gesammelt haben, wird Ihr Browser verlangsamt.
How to clear cookies on browser? Here I will take an example on Chrome.
Click the three-dot icon at the upper right corner of Chrome, and select More tools > Clear browsing data.
On the Advanced tab, choose All time from Time range drop-down menu.
Then tick the data you want to clear and hit the blue Clear data icon.
2. Überprüfen Sie die Internetverbindung:
Ist Ihr Internet langsam oder stimmt etwas mit Ihrer Verbindung nicht? Wenn dies der Fall ist, beheben Sie zuerst Ihre Verbindung, indem Sie Ihren Router neu starten. Wenn Sie Facebook weiterhin nutzen möchten, versuchen Sie es auf Ihrem Handy.
3. Deaktivieren Sie die Browser-Plugins:
Facebook kann zu viel Energie Ihres Browsers verbrauchen, daher ist es besser, sie nicht zu verteilen. Deaktivieren Sie Ihre Werbeblocker- oder Antiviren-Plugins, die Sie in Ihrem Browser installiert haben, wenn Sie sich bei Facebook anmelden.
How to disable browser plugins?
For Chrome, tap the three-dot icon at the upper right corner, and choose More tools > Extensions. Then you will be taken to then Extensions tab. Now look for skeptical plugin and toggle off it.
Now go back to Facebook website and check if everything is ok.
4. Probieren Sie einen anderen Webbrowser aus:
Möglicherweise handelt es sich um ein vorübergehendes Problem mit Ihrem Webbrowser, und der Wechsel zu einem anderen kann Ihnen hier helfen.
5. Überprüfen Sie, ob Facebook nicht verfügbar ist:
Die Website wird möglicherweise gewartet und ist für eine Weile nicht verfügbar. Es ist ratsam, dies zu überprüfen, indem Sie ihre Social-Media-Websites oder ihr Hilfezentrum besuchen und sehen, was sie über ihren Status sagen.
6. Deaktivieren Sie den Facebook Messenger:
The problem could be the messenger application in the browser. Sometimes it can take a severe toll on how your Facebook runs, so deactivating it could help. You can use Messenger Lite versions on your mobile phone.
7. Verwenden Sie Ihr Telefon:
Wenn alles andere fehlschlägt, fürchte dich nicht. Es könnte nur ein vorübergehendes Problem sein, das nach einer Weile verschwinden wird. Sie können sich auf Ihrem Handy an Facebook wenden. Die Smartphone-Anwendung scheint einwandfrei zu funktionieren und verhindert, dass Sie sich Sorgen machen, dass Facebook langsam geladen wird.
Part 3. Fix Facebook Lagging Issue on My Phone
No matter you are using an Android or iPhone device, below are the steps to help you get rid of the Facebook slow issue.
1. Reboot your phone
This solution also calls a soft reset, which requires to turning your phone off and back on again. It is not magic but effective. Your phone's RAM will fill up abundant pieces of software code as time pass by. And these bits of computer code get scatted about in different area. When you reboot, everything in your RAM gets cleared out.
How to reboot your phone based on the model?
Für Android-Nutzer, tap and hold the power button and choose restart from the menu. Wait for a few seconds, the phone will reboot again.
For users with iPhone X and newer, long-press the side button and either volume button till the slider appears. Then swipe the slider to shut down your phone. Next, tap and hold the side button to reboot the phone.
If you are using iPhone 8 or older, long-press the power button to turn off and turn on your phone.
Now you can check if your Facebook loading normally.
2. Clear cache on Android phone
You probably visit Facebook app frequently, which means there are probably a ton of cache that need to clear out. Clearing cookies and cached files to see if it improves your Facebook loading speed.
How to clear Facebook cache?
Gehe auf Settings > App & Notifications > Facebook > Storage & cache > CLEAR STORAGE.
3. Update operating system
When new version of operating system rolls out, they are always accompanied by additional features, improved usability and enhanced user experience. If you don't keep your operating system up to date, you may experience crashing, freezing and poor performance on your phone.
How to update operating system on mobile phone?
On Android device, navigate to Settings > System > System updates to check it. If update is available, go to update it in your available time.
For iPhone and iPad users, go to Settings > General > Software Update. Again, update it if available.
Part 4. Download from Facebook for Offline Viewing
To improve your experience in watching Facebook videos, it is better to download your favorite Facebook videos for offline viewing. Luckily, you can get Facebook video downloaded with AmoyShare Facebook Video Downloader
AmoyShare Facebook-Video-Downloader is the most capable tool among its peers. It enables you to download Facebook video to Android, iPhone, PC, and Mac without sign-in.
Keine Werbung! Im externen Speicher gespeichert! Optionale Videoauflösung!
Let's get started to download Facebook videos on Android with the following steps:
On the right top of the post, you can find the dot-dot-dot icon, click it, and then choose "Copy link."
Gehen Sie zu AmoyShare Facebook-Video-Downloader on your phone, and paste the link into the text field and hit the Download button.
Here you've downloaded the Facebook video! Try this excellent tool now!
Tips: For iPhone users, you need to rely on a file manager such as Documents by Readdle to save a video from Facebook on your phone.
Fazit
In der heutigen Welt nutzt jeder gerne soziale Medien, und Facebook ist wahrscheinlich das bekannteste. Das langsame Laden von Facebook kann manchmal enttäuschend und deprimierend sein.
After reading this post, I hope you have known why is Facebook so slow and how to fix it on your computer and mobile phone.
Häufig gestellte Fragen
Warum ist Facebook so langsam?
Facebook loading slow can be caused by a wonky internet connection, corrupted files, conflicted third-party toolbars, server issue, etc. You need to dig out the true reason and fix it once for all.
How do I fix Facebook running slow?
To fix the issue of Facebook loading slow, go to check your internet first. Then you can clear cookies or disable the browser plugin and check if Facebook functions well. If not, please try another browser or check if the Facebook server is down.
Möglicherweise interessieren Sie sich auch für diese Themen